<< Back
Josephine Lathan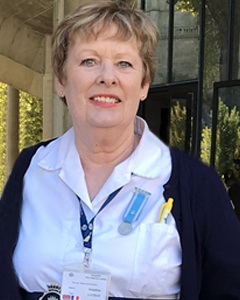 Josephine first served in Lourdes in 1968 whilst in her second year of Registered Nurse training caring for special needs pilgrims on a Diocesan Pilgrimage from England.
Her parents and grandparents had always had a special devotion to Our Lady which they transmitted to her. Their devotion increased further after having received two very special blessings in Lourdes when Josephine was a young girl. This Pilgrimage was therefore very meaningful for her.
After having completed her nurse training she spent some time in the U.K., Australia and the Middle East. During this time the call to Lourdes and to share it's message became very strong so she returned as a Tour Guide working with groups in Lourdes and accompanying some to religious shrines in France, Spain and Portugal.
She has been resident in Lourdes for many years and holds dual British/French nationality.
She is a trainer for the Hospitalité Notre Dame de Lourdes, a member of the Famille Notre Dame de Lourdes for whom she attends to the English Language correspondence and is one of the Pilgrimage co-ordinateurs for the Hospitalité de Miami.
She is a Eucharistic Minister and an active member of the Pastoral Care Team of the Diocese of Tarbes and Lourdes.